LuceLine Orchard is home to nearly 10,000 apple trees with 7 locally grown apple varieties. We also have a vineyard with 6 acres and 4 grape varieties are nestled directly on the Luce Line trail. A tornado hit the orchard July 18, 2015, taking out 5,000 (half) of the orchard. 3,500 trees have been replanted and it looks beautiful!

There are many activities to do with your family at LuceLine with plenty of room to roam. If you'd prefer peace and quiet, head down our nature trail or walk the Luce Line trail. Food from the grill is yummy and our special recipe mini donuts will melt in your mouth. The animals are our pets and live here year round. They are well loved. Our gift shop is the original 1907 barn that we were able to save and is filled with wonderful foods mostly from MN. Also really pretty gifts and things for your home. We have honey from our hives, Rich harvests our honey. Our bees pollinate our orchard, pumpkins, alfalfa, flowers, sunflowers, and sumac. We also have maple syrup from trees tapped on the Luce Line Trail.

Check out our photo gallery. Please check our website frequently for special events and hours. Like and share us on Facebook. Our family has put hard work and love into our local apple orchard. It is our life's dream. We hope you can feel that when you visit.

In 2004 LuceLine Orchard was established. The apple is a member of the Rose family and we are on Rose Avenue – it was meant to be! 155 rolling acres including an 80-acre wetland sits directly on the slow-paced, tree-canopied limestone Luce Line State Trail which runs from Golden Valley to Cosmos.

LuceLine Orchard is a sprawling 155-acre property located in Watertown, MN on the Luce Line Trail. The orchard started in 2004 with a dream and 300 apple trees. Today the orchard is just shy of 10,000 trees and 4,500 grape vines. Our vision combined with hard work from family and friends has allowed us to open to the public. We have several different varieties of apples, including many developed at the U of M, along with loads of pumpkins, gourds, squash and a variety of foods with our own unique apple twist. With 80 acres of woods and wetland, walkers, runners, bikers, horse riders, bird watchers and dogs on leash will have plenty to do and see.

Experience the friendly small town farm feeling of LuceLine Orchard!
---
About Our Minnesota Apple Farm Family
RICH & TERRI
Rich Pawelk grew up on a farm three miles west of Watertown (Montrose). Terri grew up in Delano and spent a good part of her childhood at her Grandparents' dairy farm on Pioneer Trail in Greenfield. Farming was in their blood. They met the summer before 11th grade on a blind date. The first eight years of their marriage was spent farming with Rich's parents near the Luce Line Trail. Things changed, and with heavy hearts, they left the farm heading out with their three children to a new life. Living once again near the beloved Luce Line Trail in Plymouth, Rich started working nights at US Foods in Plymouth, Terri at KQRS in Minneapolis. It took years, but they got back to their roots, in 2004! The first crop was pumpkins. In 2007 the first 300 apple trees were planted. In 2009 the first acre of grapes. With help from family and friends, nearly 10,000 apple trees and six acres of grapes have been planted. On September 12, 2012, LuceLine Orchard was born!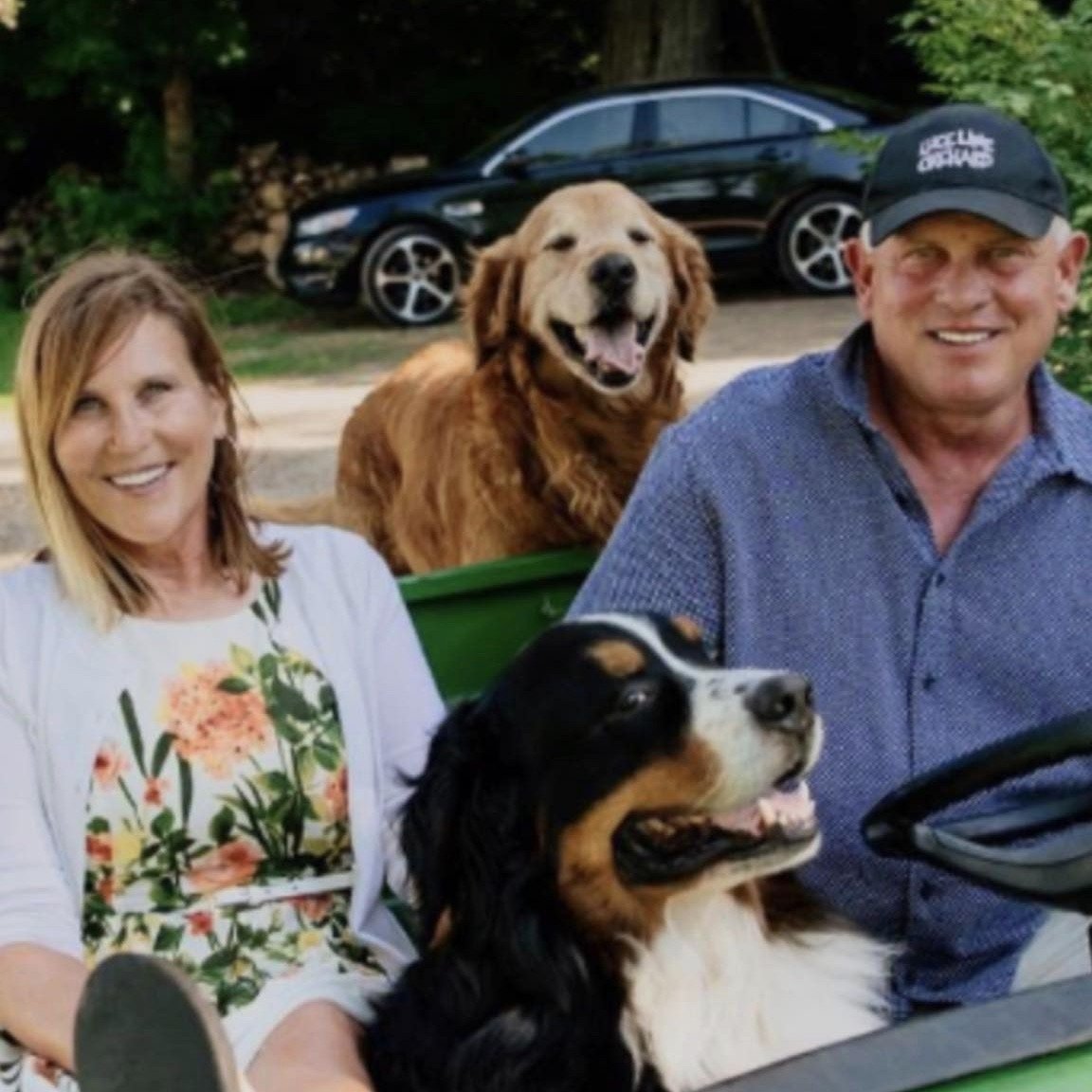 REED & KATIE
Reed and Katie met in 2003 while attending the University of Iowa. Reed graduated with a degree in finance and Katie the liberal arts. They were married in 2007. Reed is a financial advisor and owner of Ameriprise Financial in Elk River and Katie works for US Foods in Plymouth as a Customer Solutions Coordinator. They are parents to Owen (10), Emmett (8), Bear a yellow pointing lab and Birdie a fox red pointing lab. They currently reside in St. Michael. You will usually find Reed giving hayrides, or guiding people around the orchard and Katie behind helping with all things technology.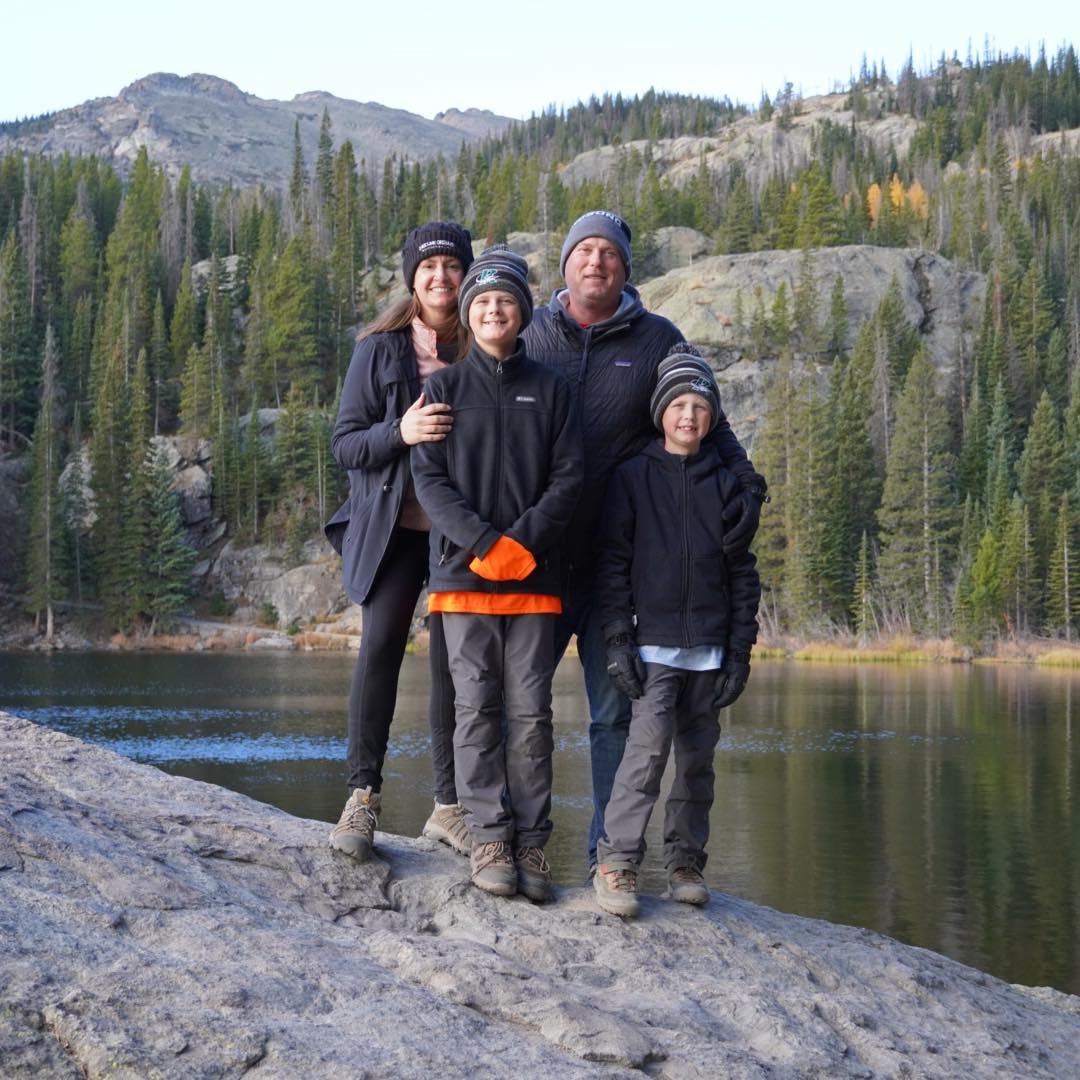 ABBY & RYAN
Abby is a SVP and insures businesses. Ryan Jirak, a native of New Prague, MN and works for the largest work Comp insurance company in the state SFM and he's the large account division leader. He graduated with a Finance degree from the University of St. Thomas. Abby and Ryan are proud animal parents to Tug an English Cream golden retriever, Ronnie a Britney Spaniel, & Lenny a "micro mini pig". They were told he was only supposed to get to 18-20lbs, but is now a 300 pound house-pig. Apparently there is no such thing as a "micro mini pig". She and her husband Ryan were married June, 25th, 2016 at the orchard and they live in Victoria, MN. You will usually find Abby in the retail barn and Ryan out buzzing about the farm helping out in all areas when not hunting & fishing. Abby developed our signature Sangrias.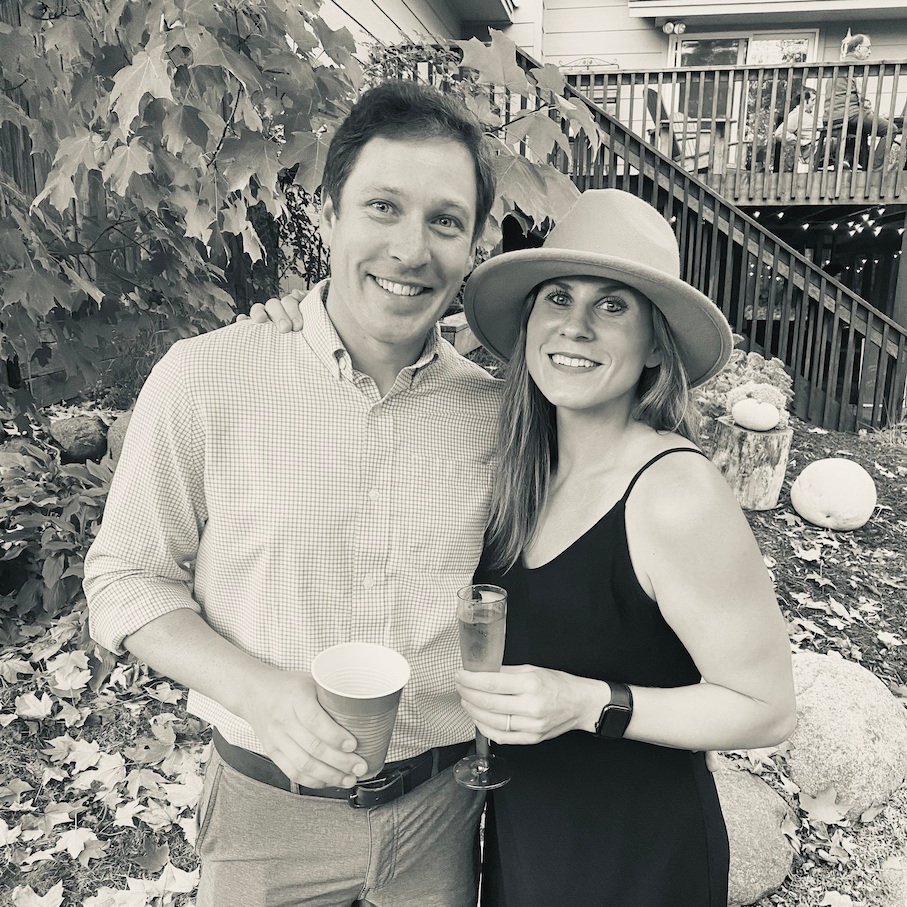 PAIGE & MATT
Paige and Matt Lynch met when they were teenagers and were married in 2010. Paige attended the Minnesota School of Business and graduated with an associates degree in Veterinary Technology. She works for St. Boni Pet Hospital. Matt is a Heavy Equipment Operator and owns Tonka Crane Service, LLC (
612-720-6161
). They are proud parents to Walter (10), Sam (Golden Retriever) and cats…Howard and Franklin. They currently reside in Lester Prairie. You can find Matt giving hay rides and Paige running the food mart! Paige also invented our award winning apple fritters.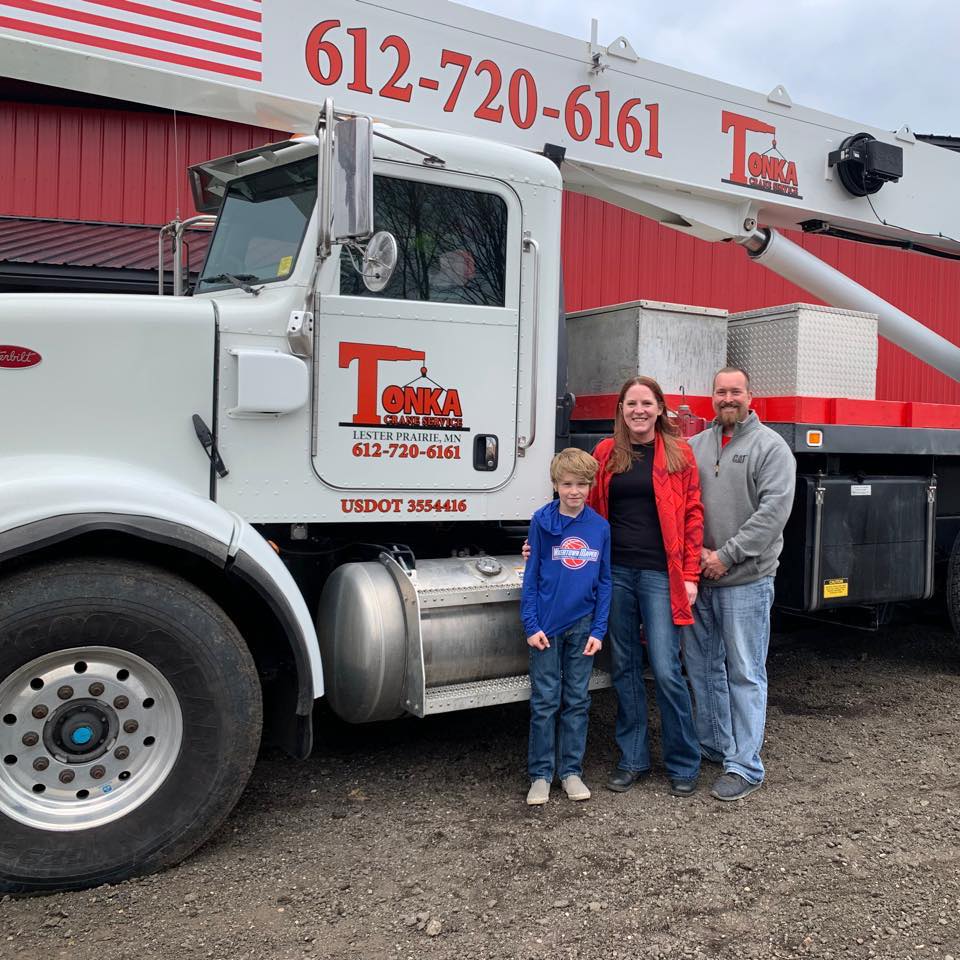 ---
History of Our Farm
The history of our farm and preserving the homestead is very important to us. When we bought the farm in 2004 it took us 3 years to clean up. The first year we cleared a log pile in the front yard along with old microwaves, stoves, dishwashers, water pipes and even a bathtub that were dumped at the farm. Years two and three were spent clearing buckthorn, barbed wire, downed trees, and prickly ash… it was a mess!
The 1907 barn was caving in. Rotted beams in the hayloft and the main barn where the gift shop is now. Trees were growing through holes in the roof of the lean-to. Everyone said "Tear down this barn!" but it was too late, Terri had already fallen in love with it. The first thing we did was replace the leaking roof. Our son in law, Matt, a heavy equipment operator, started the restoration process by tearing off the old lean-to.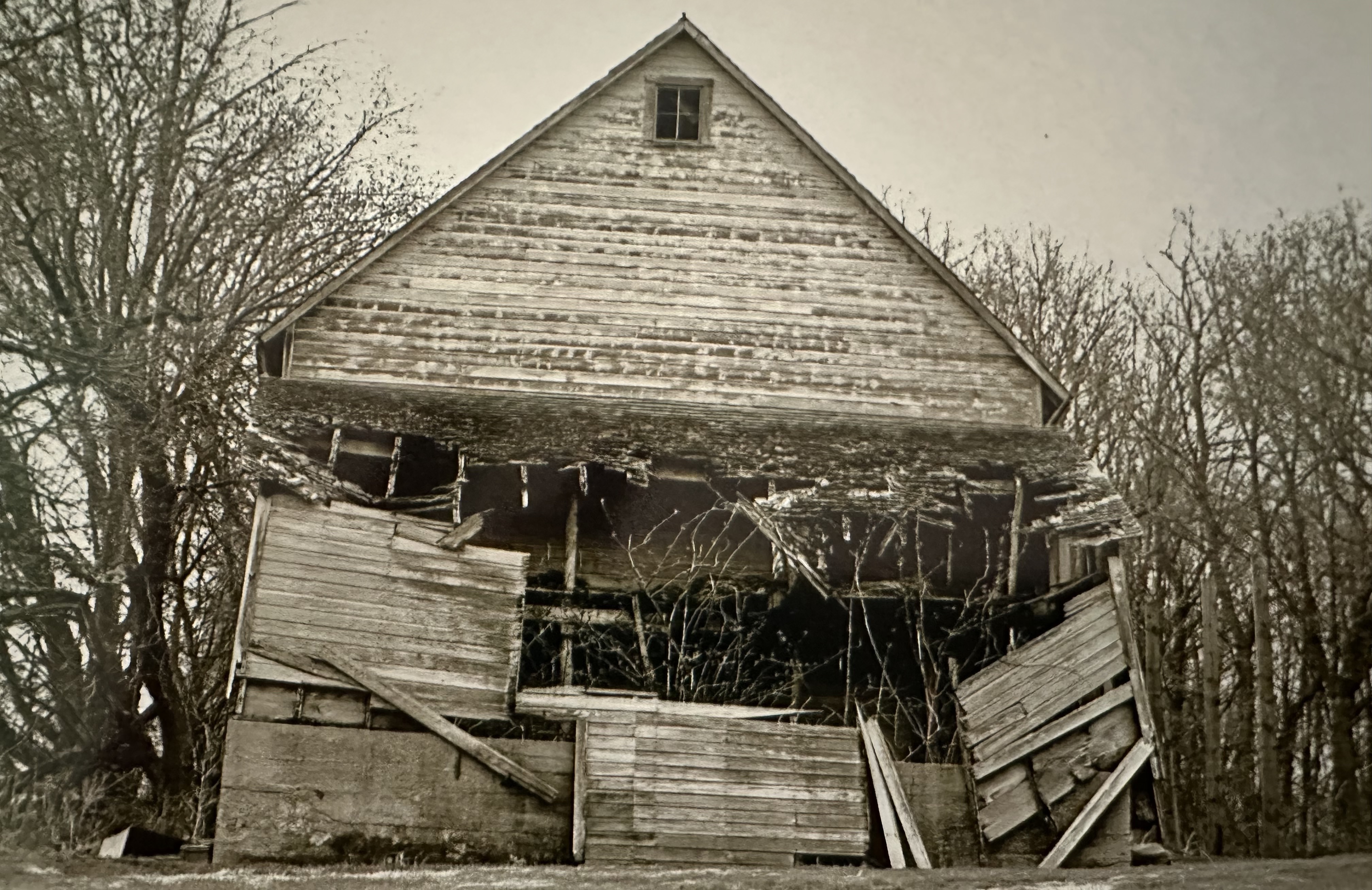 2013 and 2014 were wet years, concrete trucks were sinking in the mud, so the crews had to use pump trucks that were 80 feet high and pour the concrete over the barn to put in the footings and foundations for the addition. The construction folks said the barn could tip over at any time. Our son in law said he could easily push it over. The barn survived, our checkbook took a hit.
Here is a photo of us planting apple trees on the farm in 2008.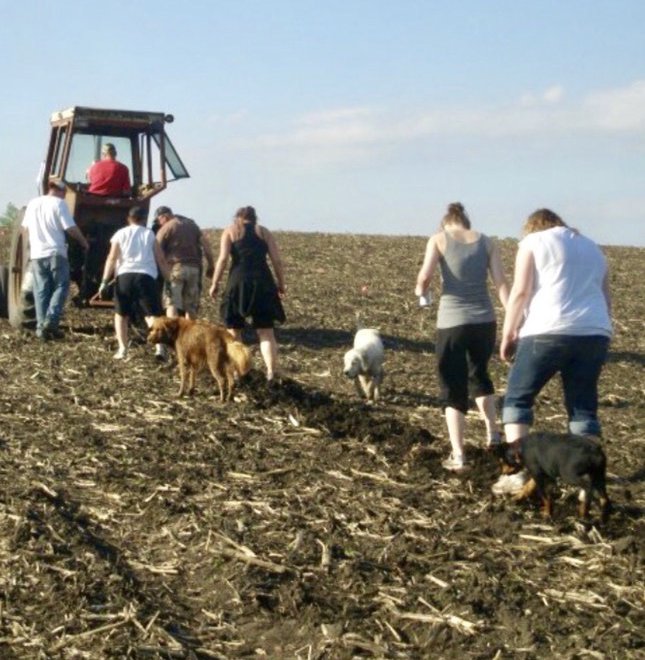 Our house was built in 1900. Many people who have lived here have stopped by over the years. The house was rented out for many years. A woman at a wedding here told us she had a horse and lived here in the 1970's. A man stopped by to tell us he worked for the neighboring farmers and lived here in the 1980's. A man from Tennessee stopped by and said his little sister passed away in a fire in a bedroom upstairs in the 1960's. He was pleasantly surprised to see the farm had become an orchard. Another man had a business and lived here in the 2000's.

A lady named Bernie Carlson Sandquist lived here in the 1930's through the early 1940's. Bernie celebrated her 95th birthday at the orchard! When the Carlson family lived here there was no running water or electricity. Her father milked 12 cows in our barn. They had some hogs and chickens. 12 cows were enough to sustain their family! The hog shed and chicken coop were gone by the time we got here. After high school graduation, Bernie road the Luce line train to teaching school in Hutchinson. When the conductor found out she lived here they stopped the train for her so she could get off! The family used a chamber pot at night in the winter and an outhouse the rest of the time. Bernie taught all grades in a one room schoolhouse. She felt the younger kids learned faster listening to her teach the older kids. Every morning she started a fire in the winter and chopped the ice for water. Everyone drank water from an enamel wear pan with a single dipper. No one worried about germs and no one got sick. She had no disciplinary problems with the children. She said they were all well behaved. Bernie passed away at age 97 on 7/20/22. We are fortunate to have met Bernie and the others who have lived here and were nice enough to stop by and share their memories with us.

All were happy to see the farm preserved.

Here are pictures of Bernie Carlson at age 18 in her high school graduation dress from the 1930's and a picture of Bernie at age 95 in 2019 in front of the same door. Also photos of the Carlson family in the 1930's. In the photos the door, siding and the picture window are original to 1900. Bernie's Dad farmed with work horses and they look to be Belgian.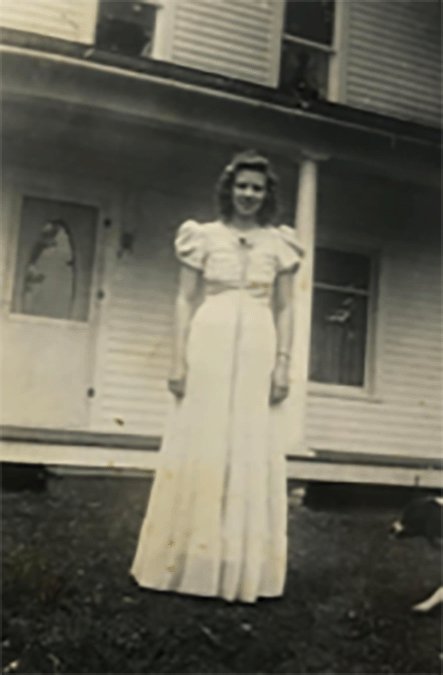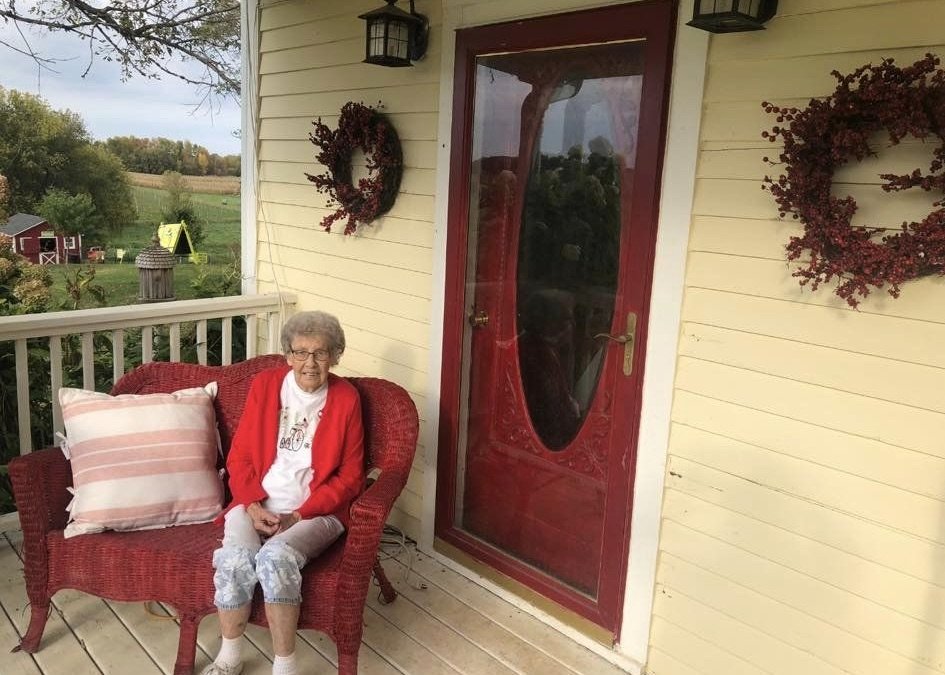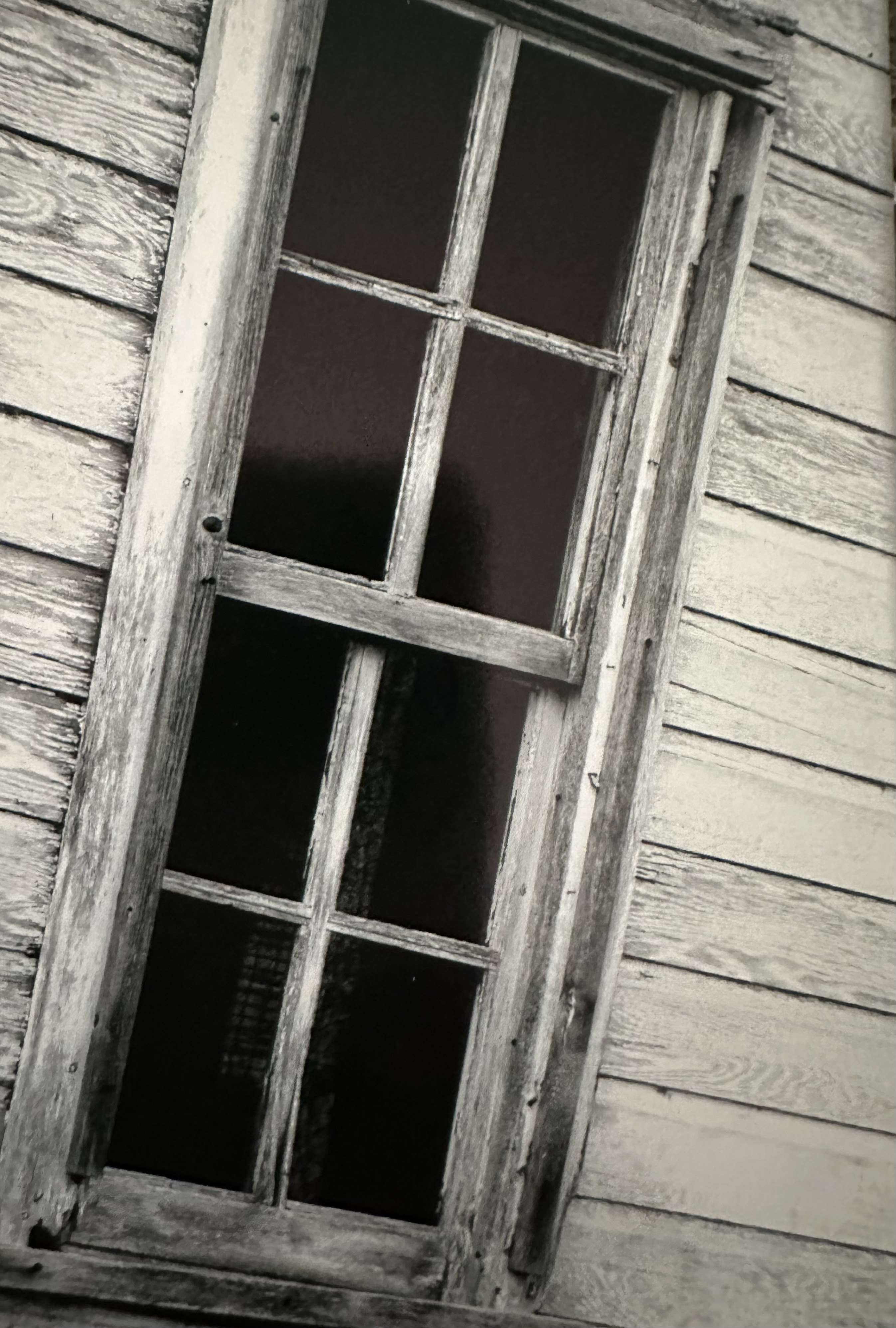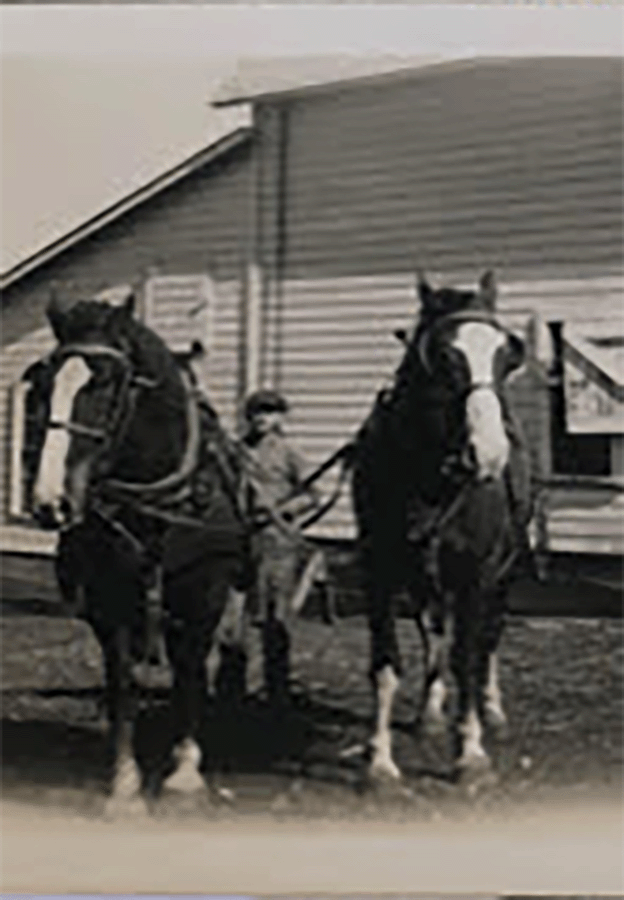 ---