Glazed Apple Cake
Cake Ingredients:
• 4 cups apples unpeeled and chopped
• 2 cups unbleached white flour
• 2 eggs, well beaten
• 1 cup raisins
• 1 cup brown sugar
• 1 cup white sugar
• 1 cup oil
• 1 cup walnuts or pecans (chopped)
• 1 teaspoon baking soda
• 1 teaspoon salt
• 2 teaspoons cinnamon
• 1 teaspoon vanilla

Glaze Ingredients:
• 1 stick sweet cream butter
• 2 tablespoons milk
• 1 cup packed brown sugar
• 1/8 teaspoon salt
• powdered sugar

Instructions:
To prepare the cake, mix the oil, sugar and eggs; then add in sifted flour, vanilla, salt, soda, cinnamon, apples, nuts and raisins. Spray a bundt pan with non-stick spray. Scoop the mixture, it will be thicker than most cake batters, and bake at 325 degrees F for 90 minutes or until it tests done. Set aside to cool while you make the glaze. The glaze is made by mixing the butter, salt, brown sugar and milk in a saucepan. Heat and stir until smooth. Remove the pan from the heat and stir in enough powdered sugar until the glaze reaches spreading consistency. Remove the cake from the bundt pan and drizzle with warm glaze.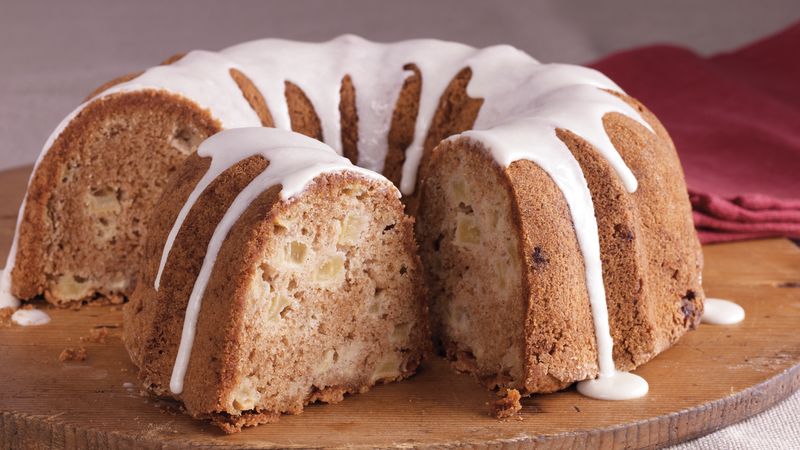 Honey Butter Happiness! (from the KQRS cook-off)
Ingredients:
• 1 or 2 sleeves of cinnamon graham crackers
• 1 jar of Velvet Bees Honey Butter found at the LuceLine Orchard!
• 1 Zestar, SeeTango, Honeycrisp, Haralson or Keepsake apple

Directions:
Cut large apple of your choice in slices. Leave the peel on. Put on foil and grill both sides of slices until slightly softened, but still firm. When they are just about ready…
Put Crackers down on a large sheet of foil on the grill and cover crackers with Honey Butter. Up to you how much you want. It melts quickly!
Add apple slices on top of Honey butter.
Drizzle with a spoon more Honey Butter on the apple slices. Don't let crackers burn on the bottom. It only takes a couple of minutes.
Add a mint sprig to make it look pretty. (optional)
Voila! Really good AND easy.
Terri's Pork Chop Panacea (from the KQRS cook-off)
Ingredients:
• 6 bone in pork chops medium cut put in a gallon Zip lock bag.
Whisk in bowl:
• 1 1/4 cup apple cider (from the LuceLine orchard is best)
• 2 Tbs mustard
• 1/4 cup brown sugar
• Add 1 SweeTango apple sliced with peel
• Add a little Lowry's salt and pepper

Directions:
Pour mixture over chops and turn bag a few times. Let chops refrigerate overnight.
Grill chops, put most of apples and marinade in foil and cook on the grill separately in a little foil tent. When chops are almost done, pour a little marinade juice over them. Take chops off grill and let sit at least 5 minutes covered with foil. Take half a jar of strawberry or raspberry jalapeño jelly (from LuceLine Orchard, of course ha!) and mix with about 1/3 cup of cream cheese. Put a tablespoon or two over each chop and add the marinated apple mixture from the grill on top of that. Sprinkle with a little sea salt. Yum!
Helen's Apple Muffins
Ingredients:
• ½ cup butter
• 1 2/4 cup packed brown sugar
• 2 eggs – room temperature
• 1 1/3 cup buttermilk
• 2 2/3 cups all-purpose flour
• 1 ¾ teaspoons ground cinnamon
• 1 teaspoon baking soda
• 1/8 teaspoon salt
• 2 cups chopped HoneyCrisp, Keepsake or Haralson apples
• 1 medium HoneyCrisp, Keepsake or Haralson apple peeled and cut into slices

Topping Ingredients:
1/3 cup all-purpose flour
¼ cup brown sugar
¼ teaspoon ground cinnamon

Directions:
Preheat oven to 350 degrees
1. In a bowl, beat butter and brown sugar until crumbly, about 2 minutes. Add eggs, one at a time beating well after each addition. Stir in buttermilk. Combine the flour, cinnamon, baking soda and salt; add to butter mixture just until moistened. Fold in chopped apples.
2. Let the batter sit for 20-30 minutes (You'll get a puffier muffin)
3. Fill muffin cups (either paper lined or greased) three-fourths full. Placed sliced apples over batter. For topping, combine the flour, brown sugar and cinnamon. Cut in the butter until crumbly (I use small food processor.) Sprinkle over tops.
4. Bake at 350 for 20 minutes or until toothpick comes out clean. Cool for 5 minutes before removing from pans to wire rack.
Skinny Pumpkin Cream Cheese Bars
Ingredients:
• 1 box angel food cake mix (the one-step kind)
• 1 15oz can of Pumpkin
• 3/4 cup water
• 1/2 teaspoon cinnamon
• 1 8oz package of reduced fat cream cheese
• few tablespoons of water, to be mixed with cream cheese

Directions:
Preheat oven to 375 degrees
Let the cream cheese soften on the counter for a while then add it to the stand mixer and beat with a couple of tablespoons of water until smooth. (Make sure it thins out a little bit.)
In a separate bowl, mix the cake mix, pumpkin, water and cinnamon together until it is smooth & well mixed.
In a 9×13 pyrex dish (sprayed with PAM) add HALF of the cake – pumpkin mix. Next, smooth it out with a rubber spatula. Drizzle half of the cream cheese over the top of the cake and take a small spatula to smooth it out. Add the remaining cake-pumpkin mix and also the remaining cream cheese for making layers.
Finally take a butter knife, stick it into the mix and go back and forth over the top of the cake making figure eights – to blend it a bit. Bake for 35 minutes at 375 degrees OR until a toothpick comes out clean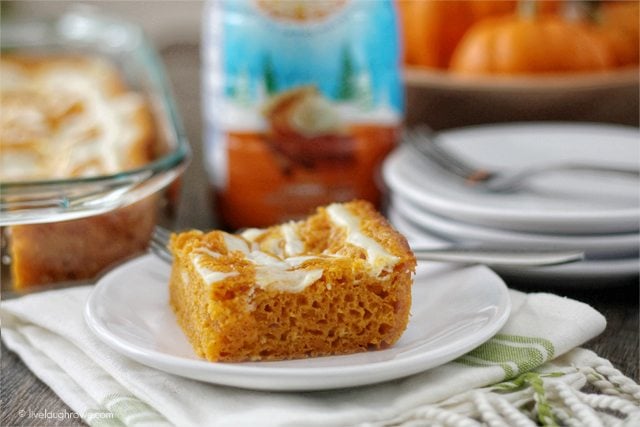 Apple and Sausage Pie
With apple season in full swing, and cooler weather on the way, here's a casserole pie that combines sweet Italian sausage with Haralson apples, and a mix of cheeses. Our neighbor Pat (the wonderful neighbor who has been teaching me all about organic gardening) brought over this delicious casserole for a block party recently. What a hit!

Ingredients:
• 1 basic pie dough recipe, rolled out and lining a 9 or 10-inch pie dish, or 8×8 baking dish, chilled (or one frozen pie crust)
• 2 large tart Haralson apples, peeled and thinly sliced
• 1/2 medium onion, chopped (about half a cup)
• 1 teaspoon sugar
• 3 tablespoons butter
• 3/4 lb sweet Italian sausage (bulk, or removed from casings)
• 1 clove garlic, minced
• 2 cups shredded fontina, provolone, and/or asiago cheese
• 1 cup ricotta cheese
• 1/4 cup feta cheese
• 2 eggs, slightly beaten

Directions:
Preheat oven to 425 degrees
Line the inside of a pie shell with heavy aluminum foil, pressing the dough against the side. Bake for 8 minutes. Remove foil, poke the bottom of the pie crust with the tines of a fork to create air vents. Return crust to oven, bake for an additional 4 minutes, or until the crust just begins to brown. Remove from oven and let cool. Reduce oven temperature to 350°F.
Melt butter in a large skillet on medium heat. Add the apples, onions and sugar. Cook, stirring occasionally, until tender for about 5 minutes. In the last 30 seconds or so, add the garlic and cook until fragrant. Transfer the mixture to a separate bowl. Increase the heat to medium-high and in the same skillet add the Italian sausage. Cook, stirring only infrequently, until sausage is browned on all sides and is cooked through. Remove from heat. Remove the sausage with a slotted spoon to a dish lined with paper towels to absorb the excess fat.
In a medium-sized bowl, mix together the cheeses and beaten eggs.
Place sausage on bottom of pre-baked pie crust. Add the cooked apple onion mixture over the sausage. Pour the cheese egg mixture over the apple mixture and spread so it evenly covers the pie.
Bake at 350°F for 35 to 40 minutes or until a knife inserted in the center comes out clean. Let stand for 10 minutes before serving.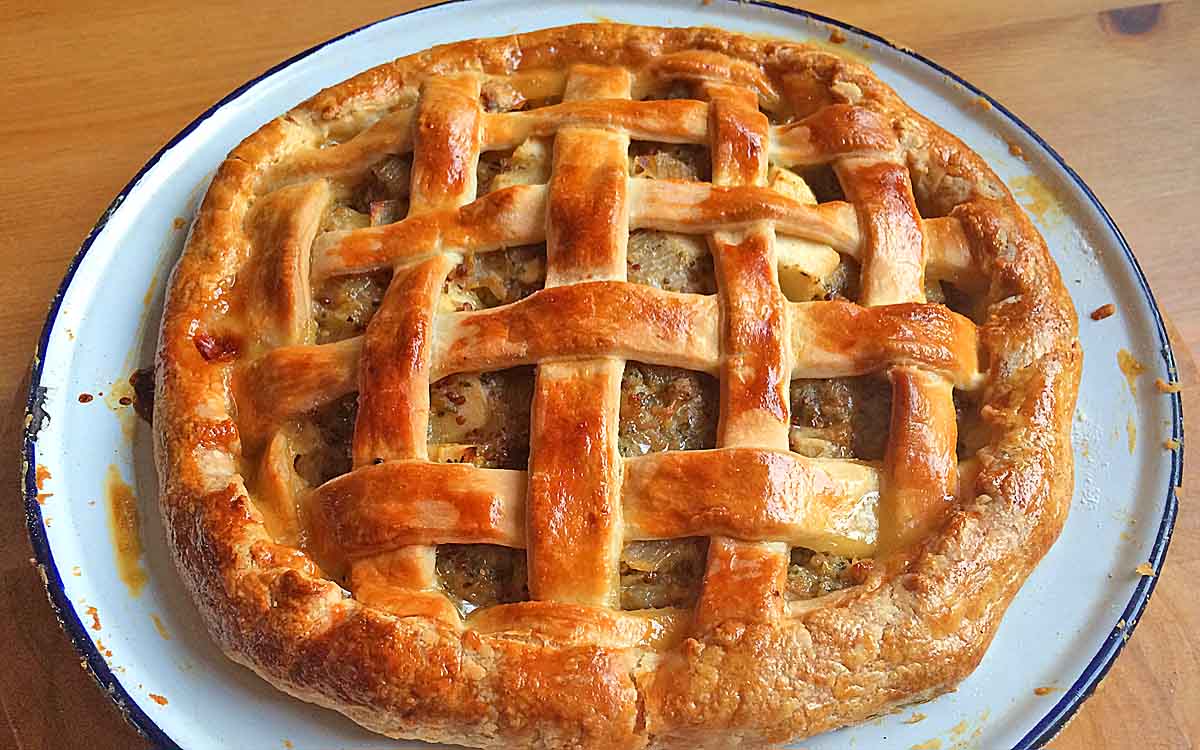 Snickers Cake
We realize this recipe has absolutely nothing to do with apples, but it's too delicious not share!

Ingredients:
• 1 box devil's food cake mix (plus the ingredients the the box calls to make the cake)
• 1 can of sweetened condensed milk
• 1 jar of Smucker's hot caramel ice cream topping
• 1/2 cup of chocolate chips
• 2 cups heavy whipping cream
• 1/2 cup of powdered sugar
• 1 tsp vanilla
• 3 Snickers candy bars, chopped
• 1/3 cup peanuts, chopped
• caramel sauce and chocolate sauce (to drizzle on top)

Directions:
Preheat oven to temperature based off the directions on the box of cake mix
Bake cake in a 9×13-inch pan according to direction on the package.
While cake is baking, mix condensed milk and caramel topping until well blended. When the cake is done and while it's still hot, poke holes in it with a fork or straw. Pour milk mixture over the cake. Allow cake to cool completely. Sprinkle chocolate chips over cake.
In a chilled bowl, whip together heavy cream, powdered sugar and vanilla. Whip on high speed of an electric mixer for 1-2 minutes. Stir in chopped snickers. Spread over cake. Sprinkle chopped peanuts over cake. Drizzle caramel and chocolate sauce on top. Chill before serving!
Crooked Lucy Cocktail
Noble Lion Bartender Zac Fisher teamed up with Abby Jirak of LuceLine Orchard
This cocktail is sure to get your Fall Frolic on! Our friends at Noble Lion & LuceLine Orchard teamed up to create this tasty Autumn concoction,
For this cocktail you will need:
2.5 oz Crooked Water Minneapple Brandy
.75 oz LuceLine Orchard honey
.75 oz Fresh lemon juice
.25 oz Cointreau orange liqueur
Combine above ingredients in a shaker tin.
Shake until cold.
Strain liquid into coupe or martini glass.
Garnish with apple slices fanned out.
Sprinkle cinnamon powder on top.
This cocktail has apple, honey, floral and citrus notes. It's refreshing yet comforting and warm. The "Crooked Lucy" will be a special cocktail featured in both The Noble Lion & Lion's Den in
October. Cheers!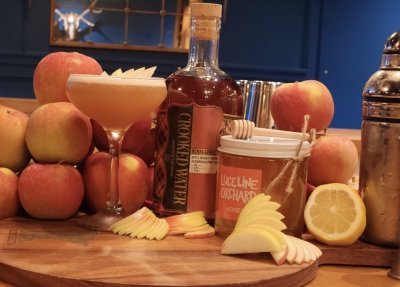 ---